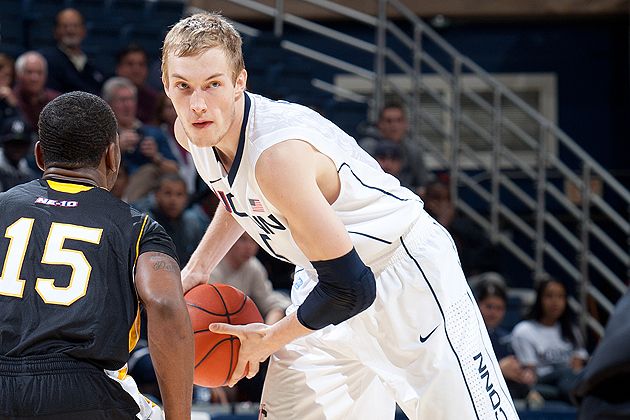 Brent Pelella
Player Profile: Niels Giffey (Jr.)
In my opinion, there is no player on the UConn roster or even in the Big East that plays as scrappy or as passionate as Giffey. He doesn't average 15 points a game or astound people with his outstanding athletic ability.
What makes Niels such an important part of this season's team is his fundamental approach and his intelligence for the game. This is shown by his consistent appearances over the past two years, accumulating 71 games played in that time span.
As I mentioned, his stats are not eye opening by any means, but there is no one who watches him play that can negate his zealous attitude on the court. This year the Huskies will need him to translate that into more production in terms of both minutes and stats.
We have seen his ability to shoot the basketball on several occasions, including a 14 point outburst against Kentucky two years ago in Maui. He doesn't showcase blow-by speed but if he can constantly be a threat from 15 feet and out then it will open the floor for dribble drives.
Defensively, he can rebound and establish position inside the paint. At 6'7' you will probably see him play the post on defensive more frequently due to DeAndre Daniels, who will most likely play the other forward spot when Olander moves to the middle. Granted, this makes for a small frontcourt when Enosch Wolf isn't on the floor, but that gives them a more dangerous transition game.
Giffey's ability to be versatile is going to help Coach Ollie slot him in at different positions all season long. Statistically, he isn't the most impressive player but he will make UConn a better team.