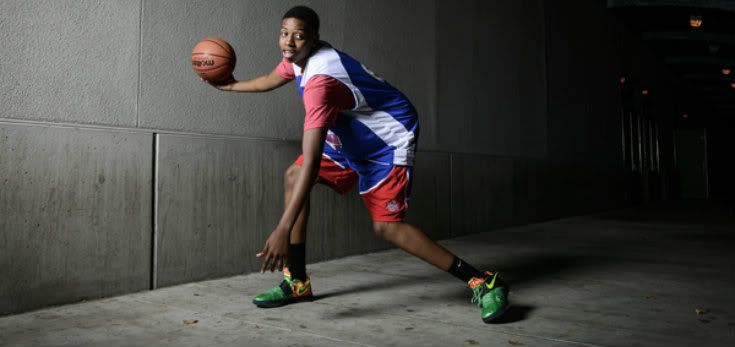 Kameron Chatman, a 6-foot-7, 195 pound combo guard, hasn't played yet for Long Beach Poly this season, due to transfer rules. He recently trimmed his list to 8 schools, but don't expect a decision anytime soon. He broke down the schools he's still considering with UConnBall.com.
Oregon: "Oregon is the local school, I'm from there. I've always been watching them. They do a great job recruiting me and I have a good relationship with them. They have been having a great season so far."
UCLA: "UCLA always gets good players. They've had an up and down season so far but Coach Howland is a great coach and always has his players playing well."
Washington: "I've always had a good relationship with Washington because one of their assistants used to coach my dad. Coach Lorenzo Romar is a good coach and his team always does well."
Georgetown: "Georgetown has a great program. I have a family friend that went there and he always tells me it's a great school with a great basketball program as well as great academics."
Louisville: "Louisville has a great program. They always get great players and are ranked in the top 10. Coach Rick Pitino is a Hall of Fame coach and I would love to play for him."
UConn: "Coach Ollie is doing a great job in his first season. When he came and watched Jordan (Bell) and I, he said he liked my game and offered me a scholarship. His players have played really hard this year."
Michigan: "Michigan is having a great season. They have Trey Burke and Glenn Robinson lll and those guys are going to the NBA. They have a great staff too."
Arizona: "I love the coaching staff there. This season has been going great for them. Coach Miller has his players doing everything to win."