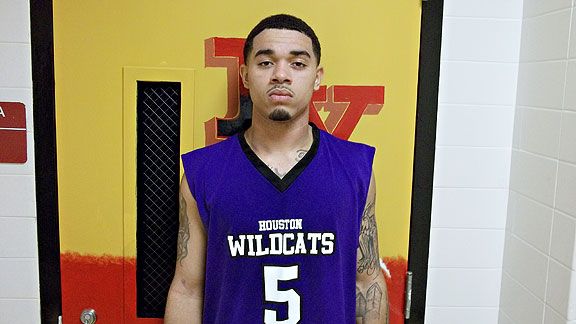 Recently, 2012 point guard Josh Gray of Wheatley, Texas received his release papers from Mississippi State. The 6-foot-1, 195 pound guard had been committed and signed to the Bulldogs until they let former head coach Rick Stansbury go.
Now, many high major programs are on the hunt for a point guard. Josh Gray is arguably on of the best 2012 point guards in the country. UConnBall's
Joey Natale
caught up with Gray's mentor Marcus King. King discusses Josh's game, recruitment and what many people don't know about Josh.
"Josh is a very good with the ball, attacks the rim well and really gets his teammates involved." King said. "He can score when he needs to score but can also create for his teammates like a lead guard. He also has some defensive intensity."
Many people around Josh on the basketball court compare him to other small but successful guards such as Kemba Walker and DJ Augustine. Marcus King described him as an "explosive guard that has all the tools and physical attributes to have a chance to be an NBA caliber player."
Josh is also improving his skills everyday. He has been putting up many shots, ball-handling drills, skill developing drills and more.
Josh is only about 36 hours into his release from Mississippi State, but many schools have inquired about him. As it is early into his new recruitment, expect schools to begin offering soon. "He's had contact from Kansas State, Virginia Tech, UConn, Texas A&M, UCLA, Memphis and Texas Tech." King said. "He's been in the process more then once, so he knows what choice he has to make for what's best in his future." King also added that Mississippi State is no longer involved in the recruitment of Gray.
We asked Marcus what Josh's thoughts were UConn's situation next season, as they will not be competing in the postseason: "He understands that they play a very tough national schedule. UConn has a reputation at putting out what NBA coaches look for. So if you can go there and make it there, you will have a great chance at the next level. A post season ban for one season doesn't bother him because it is a necessary sacrifice to take. He's not afraid of the ban, UConn will be seen so he can have some great exposure."
Josh is early-but-late in the recruiting process and he is in not much of a rush. He will make his decision whenever the right situation comes along. Josh will make a decision based on the situation that fits him best. He will work on taking visits as soon as he can, but right now, he has nothing on his schedule.
"Josh is a very humble kid with a strong desire to make it to the NBA because he loves basketball." King said. "Josh is a great young man that is very mature and that really reflects his character."
Josh Gray will continue to be followed by us at UConnBall. Expect him to make his decision within the next few weeks. He is a great available senior that can make an instant impact at a high major program.